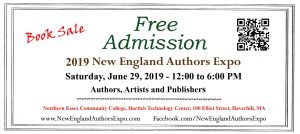 Books! Browsing! Conversation!
The 2019 New England Authors Expo is free to the public and promises to be fun for authors, publishers, and readers alike. I'll be participating as part of Sudbury Publishing Group, located in the main hall. Just look for the glowing lantern, and you'll find us.
We'll have autographed copies of Tory Roof and Silver Line on hand, along with a sign-up sheet for future communication.  Enter to win a $25 Amazon gift card. Say hello and tell us what you're working on, what you like to read, or where you need help with your own publishing ventures.
We look forward to meeting you and celebrating the written word.