Buy Now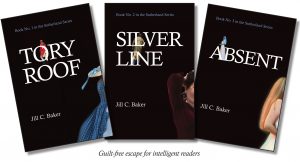 Fall sets the stage for an immersive read. Let the mood sweep you away to long-ago hearths, hope, and heartache.
These links go directly to online stores and library & subscription platforms by title for your convenience.
EBOOKS ON SALE NOW!
TORY ROOF     $2.99
SILVER LINE   $2.99
ABSENT            $2.99 (Newest Release)
Regularly:
Paperback $9.99
eBook $5.99
If you have a moment, please leave a review. Many thanks!
FIRST IN THE SERIES:

  Tory Roof, Finalist in Literary Fiction 
Independent Publishers of New England 2019
Paperback
eBooks
Here's what readers are saying about Tory Roof:
Deborah Shepherd's review on Goodreads.
Apr 16, 2022
"Unputdownable." "It was amazing."
"When real estate agent Sarah Sutherland opens the door to the 18th century house she's showing, she has no idea she's in for the adventure of a lifetime. Set in present day and pre-Revolutionary War New England, Tory Roof gives us a thrilling romance, a plot twist I never saw coming, and heroes and villains enough for two centuries. It is also impeccably researched and presents a welcome slant on the part women played in creating our country. For history buffs, fans of romance and of time travel, and anyone who loves an engaging tale, well told. I found Tory Roof unputdownable and have already ordered the next book in the series."
Reviewed in the United States on March 29, 2021
"I LOVED this book! I am a huge history buff (especially Civil War and Revolutionary War) as well as a longtime fan of time slip/time travel historical fiction. I feel as if this book was written just for me, and I didn't want it to end. Starting the sequel now. I love the author's writing style and her historical research is truly impeccable. Bravo!"
Reviewed in the United States on October 22, 2019
Verified Purchase
"Tory Roof is an unexpected adventure across time that juxtaposes life in pre-Revolutionary War America with the modern day. It's a fascinating comparison and thrilling turn of events, especially if you're intrigued by history! A woman exists as herself in both realms. She is confused at first but comes to understand it and master it over time. I loved it!"
OTHER COMMENTS about Tory Roof — and more Amazon Reviews
"Historical fiction meets Dr. Who." — S.M.
"Unpredictable. Fun. A roller coaster."— N.G.
"Excellent read." — J.C.
"Twists and turns kept coming" — K.M.K.
"Tory Roof is so frickin' good."— S.H.
"The book is awesome. I can't wait for the next one." — L.G.
"Just read the preview and I'm hooked." — M.M.B.
"Thought it was going to be a nice, commercial story, but it's so much more!"— M.O.
"Wonderful journey with great characters and a beautiful detail of history." — D.G.B.
"I love it so far! Have read almost a third since last night. Didn't want to stop reading it! — M.S.C.
SECOND IN THE SERIES (but stands alone):
Reader reaction to Silver Line:
(Selected for "First Lines" by BookLife)
Reviewed in the United States on October 21, 2020
"Wow, what a great book! Silver Line just led me into great memories of Boston and the Gardner Museum. I can envision the empty frames and the room the pictures once hung in so beautifully. The story develops with superb language and beautiful visualizations of Boston and Colorado. A page turner that I savored. Read it !"
THIRD IN THE SERIES (but stands alone):
What people are saying about Absent:
March 2022
"I just finished Absent. Really enjoyed it. I liked that it was left ambiguous (about) how much of the "travels" were real, controlled by Tracee, controlled by Carter's mind and /or controlled by substances. I have one question: did Tracee really have the powers and abilities she claimed?" — KMK
See how judges at the 2021 IBPA's Benjamin Franklin Awards competition rated Absent. (scroll down)
Reedsy Discovery Reviewer:
4.0 out of 5 stars Interesting premise, intoxicating hallucinations and action
Reviewed in the United States on September 14, 2020
"The premise of this book pulled me in from the start and along with the minimalistic mysterious cover told me I would enjoy reading this book. I'm happy to say my predictions were true."
…  "The best part about the book is the journeys Carter takes when he's in a trance…. The details in these scenes are exquisite, and I felt like I was in a trance right along with Carter."
… "I would recommend this book to anyone who wants to know more about synesthesia, enjoy literary fiction and… travel through time and space."
Contact Me
Between the Lines
Darn. There's a word for that.
March 19, 2023 I recently learned there was a word for the kind of leaves that 'hung around' after the others fell. "Marcescence" is the phenomenon, and trees such as oak, beech, and hornbeam are known to participate. These trees, with marcescent leaves, don't drop them until spring, when a … Continue reading Darn. There's a word for that.
When imagination manifests in reality
I put my imagination out into the world, and the universe delivered the real thing. I had this experience twice: once when I visited a place and realized I had seen it in a dream and when I saw an old chest I imagined for a book.