Buy Now
For your convenience, here are direct links to online stores and library/subscription services for the first three books of The Sutherland Series — available in paperback and ebook format.
Paperback $9.99
eBook regularly $5.99
eBook SALE on ALL TITLES extended for 2022!
TORY ROOF     $2.99
SILVER LINE   $2.99
ABSENT            $2.99 (Newest Release)
If you have a moment, please leave a review. Thanks!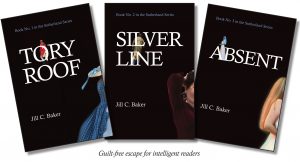 Tory Roof, Finalist in Literary Fiction 
Independent Publishers of New England 2019
Paperback
eBooks
Here's what readers are saying about Tory Roof:
Reviewed in the United States on March 29, 2021
I LOVED this book! I am a huge history buff(especially Civil War and Revolutionary War) as well as a longtime fan of time slip/time travel historical fiction. I feel as if this book was written just for me and I didn't want it to end. Starting the sequel now. I love the author's writing style and her historical research is truly impeccable. Bravo!
Reviewed in the United States on October 22, 2019
Tory Roof is an unexpected adventure across time that juxtaposes life in pre-Revolutionary War America with the modern day. It's a fascinating comparison and thrilling turn of events, especially if you're intrigued by history! A woman exists as herself in both realms. She is confused at first, but comes to understand it and master it over time. I loved it!
OTHER COMMENTS and more Amazon Reviews.
"Historical fiction meets Dr. Who." — S.M.
"Unpredictable. Fun. A roller coaster."— N.G.
"Excellent read." — J.C.
"Twists and turns kept coming" — K.M.K.
"Tory Roof is so frickin' good."— S.H.
"The book is awesome. I can't wait for the next one." — L.G.
"Just read the preview and I'm hooked." — M.M.B.
"Thought it was going to be a nice, commercial story, but it's so much more!"— M.O.
"Wonderful journey with great characters and a beautiful detail of history." — D.G.B.
"I love it so far! Have read almost a third since last night. Didn't want to stop reading it! — M.S.C.
Reader reaction to Silver Line:
(Selected for "First Lines" by BookLife)
Reviewed in the United States on October 21, 2020
"Wow, what a great book! Silver Line just led me into great memories of Boston and the Gardner Museum. I can envision the empty frames and the room the pictures once hung in so beautifully. The story develops with superb language and beautiful visualizations of Boston and Colorado. A page turner that I savored. Read it !"
Reedsy Discovery reviewer on Absent:
4.0 out of 5 stars Interesting premise, intoxicating hallucinations and action
Reviewed in the United States on September 14, 2020
"The premise of this book pulled me in from the start and along with the minimalistic mysterious cover told me I would enjoy reading this book. I'm happy to say my predictions were true."
…  "The best part about the book is the journeys Carter takes when he's in a trance…. The details in these scenes are exquisite, and I felt like I was in a trance right along with Carter."
… "I would recommend this book to anyone who wants to know more about synesthesia, enjoy literary fiction and… travel through time and space."
Contact Me
Between the Lines
When History Comes Alive
Fall 2021 — Maybe it's the season, when the veil between the living and dead is said to be thinner, or maybe I was just in the right place at the right time to enjoy a flash from the past. Either way, as someone who writes historical fiction and likes … Continue reading When History Comes Alive
Author Interview by Mary Smith
February 2021 — How do you launch a writing career? What's the process for publishing a book? Where can I get help? What is your personal experience? I posted this Q & A interview on Linked In to answer many of the questions I'm asked in person and in my … Continue reading Author Interview by Mary Smith