Buy Now
The first three books of The Sutherland Series are now available in paperback and ebook format.
Paperback $9.99
eBook regularly $5.99
NOW — 2021 eBook SALE on ALL TITLES!
TORY ROOF     $2.99
SILVER LINE   $2.99
ABSENT            $2.99 (Newest Release)
If you have a moment, please leave a review. Thanks!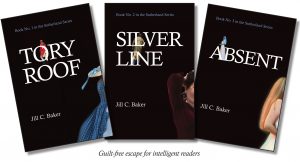 Tory Roof, Finalist in Literary Fiction 
Independent Publishers of New England 2019
Paperback
eBooks
Here's what readers are saying about Tory Roof:
AMAZON REVIEWS and casual comments.
"Historical fiction meets Dr. Who." — S.M.
"Unpredictable. Fun. A roller coaster."— N.G.
"Excellent read." — J.C.
"Twists and turns kept coming" — K.M.K.
"Tory Roof is so frickin' good."— S.H.
"The book is awesome. I can't wait for the next one." — L.G.
"Just read the preview and I'm hooked." — M.M.B.
"Well-written." — T.T.
"Thought it was going to be a nice, commercial story, but it's so much more!"— M.O.
"Wonderful journey with great characters and a beautiful detail of history." — D.G.B.
"I love it so far! Have read almost a third since last night. Didn't want to stop reading it! — M.S.C.
"I read the excerpt for Tory Roof and loved it." — T.B.
"I'm donating one to the Library and giving one as a gift….will be giving more as gifts later." — G.G.
"My printed copy of your book is coming tomorrow." — A.P.
"Just downloaded to Amazon Kindle."–S.B.
"Are there local places selling Tory Roof? Want to give one to my girlfriend. I gave my copy to my mother." — V.V.
Contact Me
Between the Lines
Author Interview by Mary Smith
February 2021 — How do you launch a writing career? What's the process for publishing a book? Where can I get help? What is your personal experience? I posted this Q & A interview on Linked In to answer many of the questions I'm asked in person and in my … Continue reading Author Interview by Mary Smith