Buy Now
Tory Roof and Silver Line are now available in paperback and ebook format for the most popular reading devices.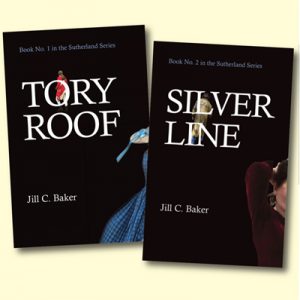 Paperback
eBooks
Here's what readers are saying about Tory Roof:
AMAZON REVIEWS and casual comments.
"I enjoyed it. It was unpredictable and fun. A roller coaster." — N.G.
"Historical fiction meets Dr. Who. And yes, I have a crush on Sarah." — S.M.
"The book is awesome. I can't wait for the next one." — L.G.
"Just read the preview and I'm hooked." — M.M.B.
"Well-written." — T.T.
"I'm reading #ToryRoof by #JillCBaker and love it. It's so frickin' good and I typically don't read too much fiction these days." — S.H.
"I purchased Tory Roof through iBooks. When I started it, I thought it was going to be a nice, commercial story, but it's so much more! It's cinematic."— M.O.
"Wonderful journey with great characters and a beautiful detail of history." — D.G.B.
"I love it so far! Have read almost a third of it since last night. Very compelling. Didn't want to stop reading it! — M.S.C.
"I read the excerpt for Tory Roof and loved it." — T.B.
"I'm donating one to the Library and giving one as a gift….will be giving more as gifts later." — G.G.
"My printed copy of your book is coming tomorrow." — A.P.
"Just downloaded to Amazon Kindle." — S.B.
"Are there local places selling Tory Roof? Amazon paperback will not arrive until Dec. 28. Want to give to my girlfriend Sunday. I gave my copy to my mother." — V.V.
Contact Me
Between the Lines