Book No. 1 – TORY ROOF, Chapter 1
ENCOUNTERS
(Play audio to set the mood) Fife & Drum 9 sec audio
She could feel the weight of his body protecting hers in the chilled autumn air, hard ground pressing under her back, her cheek raw from the rough wool of his jacket. A volley of musket fire exploded, followed by a cloud of smoke. The sound of fife and drums kept getting fainter as the mismatched band of countrymen marched further down the road. When the air finally cleared, she could smell the heady scent of Concord grapes lifting off a tangle at the edge of the field. She didn't want him to move.
With the buzz of her alarm, Sarah Sutherland realized her recurring dream ended where the town reenactment maneuvers began. She was aroused, anxious, and irritated that she'd miss the Colonial Muster, because she had to show a house.
In her four years as a real estate agent, she had never shown an antique home, let alone a property of this stature. The Covington estate was a local landmark, entrenched in American history, and preserved with considerable accuracy.
Upon the death of the last Covington, Sarah approached the executors about representing them and was delighted when her firm landed the account. Jingling her keys, she waited in her doorway, planning to drive with her prospective buyers to the location. She rehearsed her pitch as she stared out the window. "The Covington estate is one of the oldest in town…built in 1714 by a gentleman farmer, who came from England. Been in the same family for at least twelve generations," she recounted. A horn beeped, and she saw the Randolphs scuttling up her walkway.
Enjoy a full Sample of Chapter One from Tory Roof. Use the 3 "dots" to scroll down the menu. Buy the book or share this link with just one click.
Book No. 3 – ABSENT, Chapter 1
REFRACTION
Her lips were ice as they touched his ear—as cold as the water that dripped over the sugar cube, through the perforated silver spoon, into the pool of green liquid in front of him. He could smell licorice on her breath as she whispered, "Find me," pressing her small breasts against his back before running off. There wasn't much between her slip-like dress and his shirt, except for three rows of fringe that landed strategically at her chest, hips, and knees.
He slowly turned and challenged her green eyes; eyes that peeked out from the long mahogany bangs of her pixie cut. "And why would I want to do that?" he asked, distracted by the poetry reading that was taking place. Someone was conjuring up rebel poet Arthur Rimbaud, who despite dying nearly 15 years prior, was still the reigning bad boy of La Belle Époche.
"Because then we can be alone," she giggled, wrapping her chartreuse scarf over her nose and around her head as if it were a veil. She ducked behind a potted palm inviting him to play. He took a deep swallow of absinthe and watched her scarf unfurl. The color was an extension of the drink itself. He pursed his lips at the bite—wormwood, anise, and sweet fennel. "Artemisia absinthium," he muttered. "Inspiration for bohemians all around."
Book No. 2 – SILVER LINE, Chapter 1
Listen or read:
TRAILS
"Let me be perfectly clear. I was never a soiled dove, a lady of the night. I was a dance hall girl, an entertainer—there's a distinction. I didn't work on the line but drew the line when it came to favoring men. I came to the town of Buckskin Joe in 1861 to use my God-given talents of song and dance, not to be mistaken for some rouge-cheeked painted cat. That error in perception still galls me.
Sure, I hung around saloons—something a respectable, East Coast woman might not do—but I was a 'good girl' by Western standards and was treated as such by patrons.
Those who didn't know me might confuse my flirtatious nature and flashy shoes with offering something else, but I can assure you, a dance with me required hands where I could see them. On a good night at Bill Buck's dance hall, I'd twirl the floor with 50 gents, pulling in as much as a dollar a turn. But they were customers, nothing more. And thanks to them, I made a damn good living. Better than some of the sporting women down the street.

I was never one of those scarlet women who would bosom-up to the first cowboy who came to town. That's not to say I didn't have a few special beaus in my life, but only one man holds my heart.
I had a soft spot for miners. They were industrious, dedicated, and patient. Maybe that's because they spent long hours working in the dark. But rest assured, they knew how to have a good time. A couple placer nuggets or a find in the Phillips lode would mean drinks all around.
I do have a story to tell about life and death and doing what's right, but I'm not quite ready to commit it to paper. It seems that my friends and neighbors have woven a tale that's far more intriguing and I'm inclined to let it be. See, I was just living my life when two sheepherders from the San Luis Valley brought smallpox into town. I did what any good-hearted woman would do. I had to do it, because most everyone else left. So, I'm going to think some more about rectifying my story.
Right now, I'd rather contemplate the mountain outside my window. The evening air is filled with sagebrush and pine, and the aspens are setting up a rustle that starts at their core and travels up their branches into a splendid frenzy. Really, what more could a woman want?"
…
Jared Sutherland had never heard the legend of Silver Heels,
nor did he—or most people for that matter—know of the diary that lay hidden in a small metal box in a quiet corner of Colorado. All Jared knew was that he was 18 years old and this was his last hurrah before starting college. Armed with a backpack and camping gear, he had flown cross-country to meet his friends at a trailhead near Scott Gulch.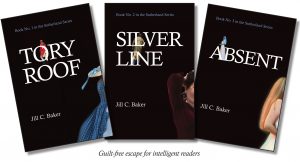 Buy Now!
Available in many online stores & library/subscription outlets